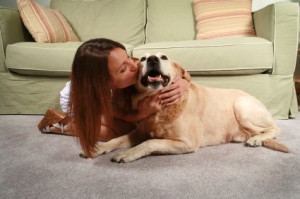 Furry friends are valued members of the family, right? But when it comes to carpet, they can be a bit, well, wearing.
Here are some simple tips that will help keep paw prints out of the living room, extending the life of your carpet and keeping your home looking great.
Wipe those paws: Keep a towel near the door and wipe the animals' feet each time they come inside. Dogs will quickly learn that no wiping means they can't come inside. Cats may be more resistant to the idea, but will certainly survive.
Give it a quick spray: If Rover or Fluffy has an accident, quickly remove the mess and spray the area with a pet-specific carpet cleaner. Let it soak in for a few minutes, then wipe it clean.
Give the pets their own room: Restricting pets to specific areas of the house is sure to keep the carpets clean. This one can be tough, though, as pets want to be with their "families" and may not remain in confined spaces.
Cover it up: Use area rugs or carpet runners in areas where the pets tend to spend a lot of time. These can easily be thrown in the washer if an accident occurs.
Install a tile entryway: Tile is SOOOO much easier to keep clean, and provides a great barrier between your carpet and the great outdoors. A few paw prints on tile can be easily wiped off before they become a stain on new carpet.
Hire a professional: If you have stains that you need removed – or smells that you just can't get out – you may want to call a professional, who can get those carpets looking as good as new.
http://mediaonerealestate.social5.net/post/tips-to-keep-furry-friends-from-ruining-your-carpet/